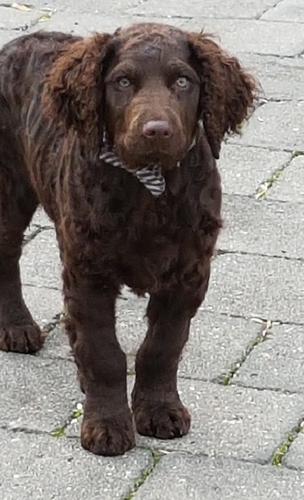 We've recently welcomed a new family member, Jake, a lively Murray River Retriever!
Now three months old (pictured on the left the day that he reached that ripe old age), Jake is a member of a breed developed during the mid 19th century along the Murray River!
Our family has a history of rehousing or fostering unwanted dogs, and over the years have taken on a couple of Great Danes, and an Old English Sheepdog. We (or more correctly I), had been considering another Dane, but my wife was a little reluctant, with new grandchildren appearing on the scene.
While the Dane that I had been looking at was a graceful and gentle giant of a girl, we had to take into account what others may think, and while we could tell stories going back 30 years about how gentle our giants were with our own babies, it did make sense to change plans.
We ended up with a "Murray Curly" following dinner with friends, where their Golden Retriever "Molly" was the star attraction. My wife fell in love with her and suggested that we look for a retriever. During my research I came across Jake's family, and here we are today!
Jake's the first puppy that we've had since we married, so this is as much a time of learning and growing for us, as it is for him!
As far as intelligence and personality are concerned, I'd have to say that he is similar in a lot of ways to "King", the Golden Labrador that I grew up with.
Somewhat stubborn at times, he's progressing well with his training, though going out for "toilet breaks" in frosty weather doesn't seem to enthuse him all that much. With the -4°C mornings that we have heading into winter here, that's something he just needs to learn to handle!
Although he has only been here for a few weeks, he has settled in pretty well, and bonded with everyone in the family!
His favorite place seems to be where ever I happen to be at the time, whether that happens to be in the car, out in the yard, or here at my feet as I write!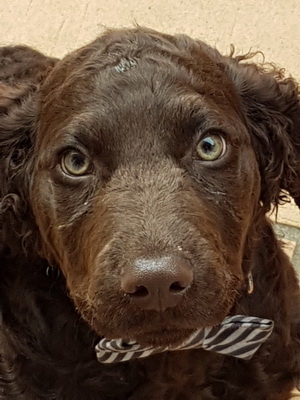 He's not a Labradoodle!
For some reason, the first thing people seem to ask is "is he a designer dog?"
The answer is no, the Murray breeds true to type, and has done since the 1890s.
Although not well known, this breed has been around for quite a long time.
The problem with mixing breeds such as the Labrador and Poodle is that if it isn't done properly, you never know what you're going to end up with.
Right: Although the bow tie that my daughters have bestowed upon Jake make him look quite the dog about town, this is a working dog breed.
For More Information About Murray River Retrievers
Murray River Retriever Association
More Information On Murray River Retrievers
Don't be fooled – Murray Retrievers are not Labradoodles, Groodles, or anything else that is crossed with a poodle.
Here's an excellent article on Murray River Retrievers!
For DNA testing on your dog, you can try Orivet