A lot has been said about social networking, but the 'Web 2.0' networking movement that is sweeping the Internet is simply a reflection of off line society.
In society, people generally tend to network together in groups made up of people involved in business, sport and service clubs, or religious groups.
I'd say that the simplest social network would be the one made up of our family and friends.
Below: A simple social network diagram.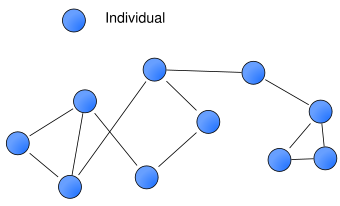 As you can see in the diagram above, not every dot is connected with every other dot.
Likewise, with networking, not every person is connected to every other person.
I will expand on this, and why it is important, in a later post!
There are a few things to be mindful of with on line social networking.
The most important is that when joining a site such as Myspace or Facebook, you are going to come into contact with a wide range of people, people from all different backgrounds.
This means that they may have different goals to you in being on the site, and it pays to respect this.
While you may be looking to network for business, they may be just looking to hang out, and may not appreciate your efforts to show them your latest and greatest efforts.
Also, as my friend Luke Razell said the other night on Twitter, "…the trouble with networking is that people want to network back.."
In other words, if you expect to contact members of your network with details of your product, you need to be prepared for them to send theirs to you as well!
I came across someone today who regarded friends on social networking sites as having joined their "permission list".
Using Social networking as a means to build your contact list is one thing, but regarding them as possible sales prospects will most likely get you into trouble.
Don't believe me?
Check out the Facebook Terms of service, and you may find that you could be in breach of them.
It doesn't make sense to me to spend time and effort getting to know others for business purposes, and then blowing it all away by losing your account.
To me, it seems to be very poor business practice!
Social networking is not Internet marketing, although it can help you in that area. It pays to know the difference!
Remember too that communication on the Internet is rather impersonal, and that people can't see your body language. Be clear in your communications, and try to avoid giving offence!
Why Not Look Me Up?
Facebook is a social networking site connecting friends, family and networking partners.
You can use Facebook to keep up with friends, upload photos or share links and videos.
One of the fastest growing social networks on line, can you really afford not to be a part of it?
Simply click on my profile badge to go to Facebook and add me as a friend. You do need to be logged in to do this!
FriendFeed enables you to keep up-to-date on the web pages, photos, videos and music that your friends, family and network colleagues are sharing.
Using the power of RSS, it offers a unique way to discover and discuss information among friends.
Signing up to FriendFeed is simple, and allows you to link your network across different platforms.
To find me on this site, simply click on my profile badge.
I reviewed a Facebook application earlier called Blog It and gave it a thumbs up!
Blog It is handy in that you can update both your Facebook and Twitter status at the same time, as well as posting to your blog. You can post to WordPress, Blogger, Tumblr and more.
While you can connect your Twitter and Facebook accounts, this app is handy in that it allows you to update both, either with the same update, or a different one.
At the risk of showing my melon one time too many on this post, you can find me on Twitter by clicking below!