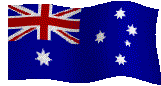 Australia was first settled in 1788 by Captain Arthur Phillip.

Following the loss of the American colonies, Britain needed to find somewhere to send its overcrowded prison population.
On the recommendation of Sir Joseph Banks, who had traveled to Australia with Captain James Cook in 1770, it was decided to create a convict settlement at Botany Bay.
In 1787, a fleet of eleven ships, known as the First Fleet, left England under the command of Captain Arthur Phillip to settle the new land.
Finding Botany Bay unsuitable for settlement, it was decided to settle in nearby Sydney Cove.
The fleet landed there on January 26, 1788.
The fleet carried 1305 people, including 736 convicts, 211 marines and wives, children of convicts and marines, as well as officers.
Today, January 26 is a National Holiday, marking the birth of a nation!
Highlighting the competition between the English and French at the time, Admiral Jean-François de La Pérouse arrived in Botany Bay shortly after the first fleet on January 26, 1788!
The French also mapped part of Australia, and in 1792 landed in Southern Tasmania, naming the harbour of Recherche Bay
Jim Jones sings a traditional Australian ballad, Botany Bay!
Sam Keckovich promotes lamb on Australia Day.
(Warning: crude Aussie humour!)